this bunch of roses
PIXI is so good to us and one of our absolute favorite brands - and the affordable cost is really just a bonus. We'd pay more! But glad we don't have to ; )
The rose collection truly blew my mind and at this point I'm almost out of everything.
In order of appearance:
PIXI's Rose Caviar Essence ($39.34) is an encapsulated moisture serum that melts into your skin. It's super cooling and idea for use with a roller because you can elegantly crush the capsules while massaging your worries away ; )
If you love oils or are looking for a great night treatment for drier skin, the Rose Oil Blend by Pixi ($24) is a great value and smells amazing of course. Also great with a roller and perfect for overall use (nails etc.)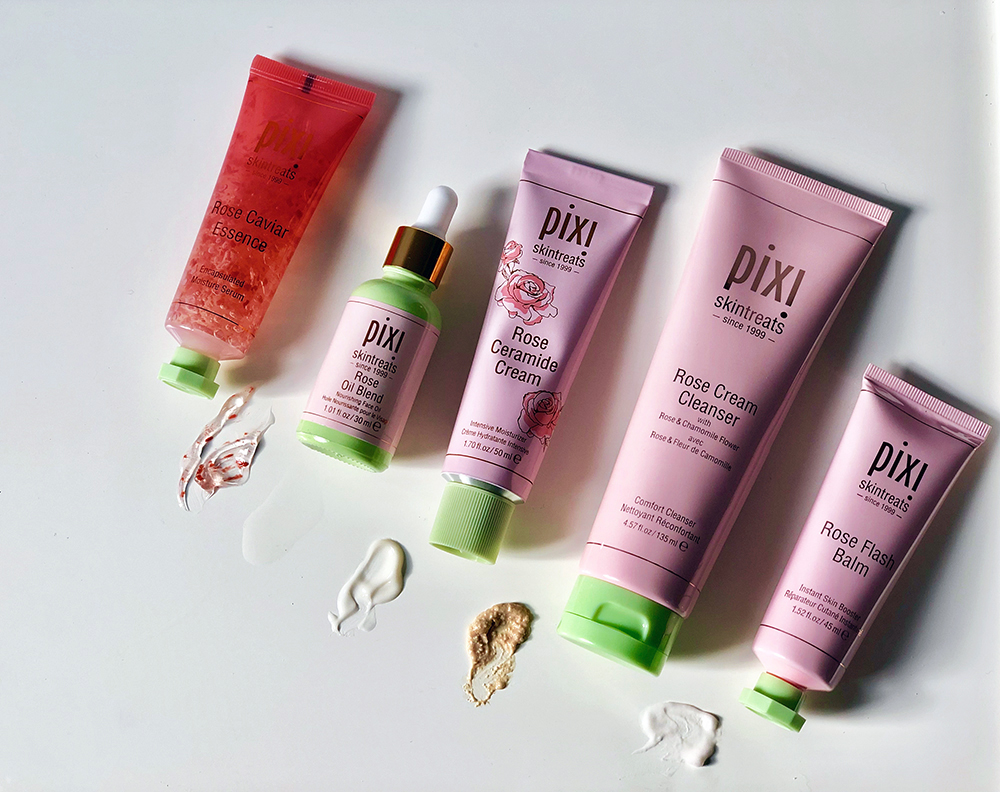 My everyday go-to for hydration is the super light yet deeply soothing Rose Ceramide Cream by Pixi ($24). I LOVE this stuff. It's like a cream/gel format and it sinks right in. Ceramides are essential fatty acids and can get easily depleted in dry environments; these creams add them back and help skin retain a plump moisture layer. It's perfect as a night cream for me because I hate going to bed feeling like I put a thick layer of gunk on my face - I'm very breakout prone and terrified of pore-clogging moisture types. I highly recommend it; I love the metal tube and I'm impressed this is made in Korea. I know it's as good as many of the more expensive K Beauty brands because Lord knows, I've tried em all.
Another of my new staples is the Rose Cream Cleanser by Pixi ($18). I really don't know how to describe this magic … it's made with clarifying mud, yet it cleanses like a cream-to-oil formula, and still yet - the formula itself somehow melts into and off of skin like a creamy gel cleanser. It feels so cleansing without stripping.
For a quick boost before going out or if my skin feels like it needs some priming before foundation, I love the Rose Flash Balm by Pixi ($24). It's a little bit mattifying and a little bit glow boosting at the same time.